Waste Reclamation the Theme at Seventh Annual SVPC Showcase
Waste not, want not. At Seattle Pacific University's Seventh Annual Social Venture Plan Competition (SVPC), most of this year's winning ideas directly or indirectly dealt with the reclamation of waste products for social benefit and economic gain. The Showcase event, the finale of the annual SVPC, was held on the SPU campus Wednesday, April 17, 2013.
The top project was NIA Wheel, chosen as the $2500 Grand Prize winner by the combined votes of more than 75 judges representing the business, non-profit, academic and professional community. Mbo Tek came in second, winning the $1500 Pioneer Award. Over 600 students, faculty, staff and guests voted for their favorite project of the afternoon and the People's Choice award of $500 was also given to NIA Wheel.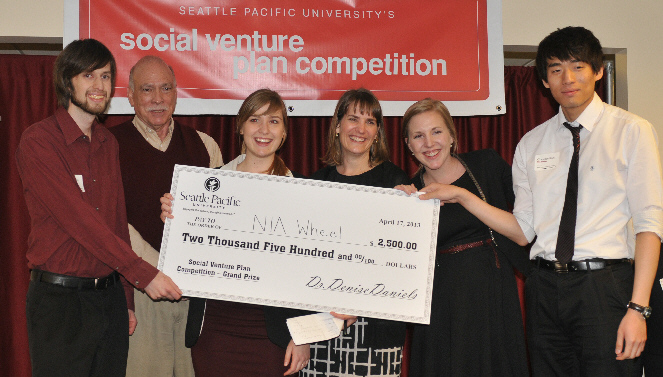 As stated in the team's Executive Summary the mission of NIA Wheel "is to provide mobility to all people regardless of physical handicap or disability by providing a wheelchair, the NIA-Wheel, which is powered by human brain-waves and that enables the user to move about freely and independently." Taking Neurological Impulse Actuator (NIA) technology that is currently being used in the gaming industry and transferring it to the health care industry, a prototype wheelchair was developed by senior SPU Engineering majors Clarence Rieu, Eric Olmsted and others last autumn. The engineers then connected with senior Business majors Jessica Way and Aryn Schatz to develop the NIA Wheel business plan. Because seven percent of spinal cord injuries in the US are related to military service, the team proposed that, as the business reached profitability, a number of their products be donated each year to veterans through the Wounded Warrior project.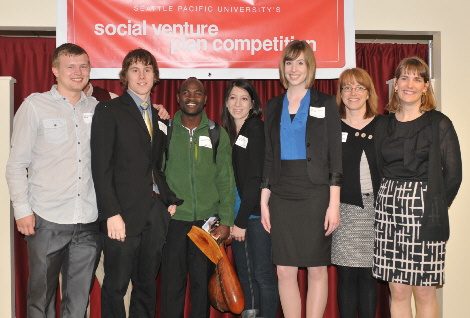 Mbo Tek was the runner-up and winner of the Pioneer Prize presented by Pioneer Human Services. Mbo Tek plans to install EcoSan toilets in rural areas of Uganda to hygienically collect human waste. The collected "humanure" is then added to other carbon material and composted; after a number of months, the resulting compost is sold to farmers as fertilizer. The team believes that they can improve sanitation and hygiene, increase crop yields for farmers and make a profit. EcoSan toilets are currently being deployed by other organizations to good effect in Haiti. The Mbo Tek team was comprised of senior Global Development Studies major Lauren Cosgrove, junior Business Administration major Nathan Burlingame, junior Electrical Engineering major Jacob Havens, senior Business Administration major Jessica Mendoza and senior Political Science major Kenneth Arap-Wasawas.
In addition to the top two prizes, three honorable mention prizes of $1,000 each were awarded as well:<![if !supportLists]>
<![endif]>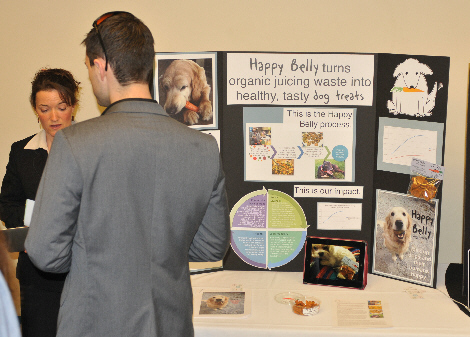 <![if !supportLists]> · C<![endif]>ontinuing the theme of waste reclamation, Happy Belly would take organic waste from juicing (e.g. leftovers from local juice bars) and convert it into healthy, organic dog treats. Happy Belly was the work of Kerrie Carbary, Duschka Fowler-Dunning, Tauschia Copeland and Tessa Levine-Sauerhoff, all MBA students from Bainbridge Graduate Institute in Seattle.
<![if !supportLists]>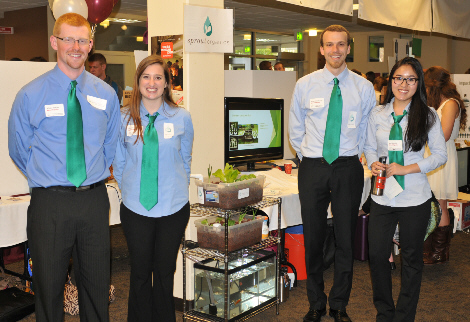 · <![endif]> Sprout Organics proposed an aquaponics farm in south central Seattle that would employ refugees and reduce the distance certain produce items travel to your door, especially out of season. Aquaponics is an emerging technology that combines fish production and soil free vegetable farming, using waste from the fish to fertilize the plants. The Sprout Organics project was developed by junior Business Administration major Kirby White, senior Electrical Engineering major Vy-Hoa Le, junior Business Administration major Nicole Spitzer and junior Engineering major Bryan Hildebrandt
<![if !supportLists]>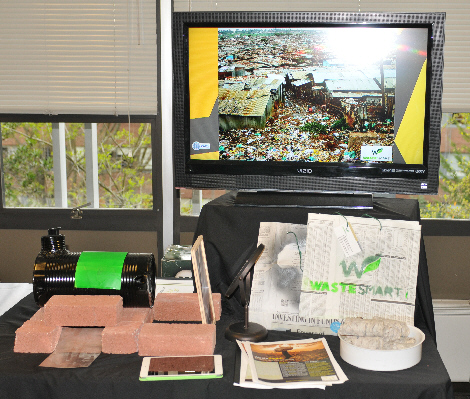 · <![endif]> Waste Smart was another plan to convert unusable waste into a salable product. The team proposes a business that would pay local residents in Rwanda small fees to bring in various types of waste products. These products are then converted into either burnable briquettes for home use or full-size bricks for building construction. Waste Smart was the work of Business Administration major James Gorman, Economics major Sergio Mendoza, Accounting major Nick Hardy and Business Management major Emily Stroud, all from Northwest Nazarene University in Nampa, Idaho.
New this year for the SVPC was a collaboration between School of Business and Economics professors and School of Theology faculty designed to integrate social venture planning projects into theology classes. Made possible by funds from the Kern Family Foundation, this effort yielded five social venture projects from students in Christian Theology and Global and Urban Ministries classes. Most of these teams were highly interdisciplinary.
Darren Siemens, a junior Business Administration major who got involved with SVPC through his Theology class, said "It was really fun even though we didn't win anything. [I'm] looking forward to next year already."
This is the seventh year of SPU's Social Venture Plan Competition. 27 teams presented at the Showcase event, comprised of over 120 students from four different schools including Northwest Nazarene University, Bainbridge Graduate Institute and Northwest University in Kirkland. In addition to the 70+ community Judges, over 600 students, faculty and staff voted in the People's Choice balloting.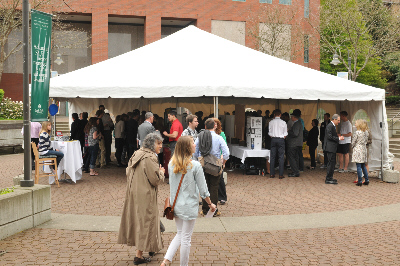 The Showcase Round was the final leg of the Social Venture Plan Competition. Earlier stages in the competition included a series of seminars on the basics of business planning, scoring of the teams' written plans and coaching sessions with knowledgeable businesspeople, community leaders and other professionals about the student's business ideas. In all, more than 160 community volunteers offered time as readers, instructors, coaches and judges.
Ben Johns of REI, a returning SVPC volunteer, said "What an energizing experience! [This is] an inspiring program that is clearly impacting lives for the better today, and well into the future as these emerging leaders prepare to set off on their careers . . . I love looking into the eyes of each person and feeling their passion and sense of purpose. There is a lot of goodness being generated."
Showcase judge Robert Wuflestad of Highland Private Wealth Management added "I am consistently impressed with the quality of SPU students."
Financial backers of the Social Venture Plan Competition include founding sponsors The Kathleen and Scott Cummins Foundation and The Herbert B. Jones Foundation. In addition, SPU gratefully acknowledges the sponsorship of local social enterprises Pioneer Human Services, Northwest Center and Miir. The competition is managed by the Center for Applied Learning in the School of Business and Economics.